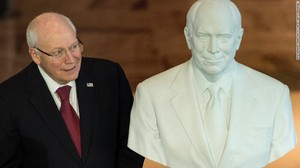 The House of Representatives unveiled a marble bust of one of the planet's most notorious war criminals yesterday,
reports Glenn Greenwald
. "Obama's immunizing Bush-era torturers converted torture from a global taboo and decades-old crime into a reasonable, debatable policy question, which is why so many GOP candidates are now openly suggesting its use."
Current Vice President Joe Biden thanked the assembled Republicans for including him in the festivites and added his accolades. "I actually like Dick Cheney," he confessed. "
I can say without fear of contradiction, there's never one single time been a harsh word, not one single time in our entire relationship."
Biden announced fresh presidential aspirations to reporters Monday: "I'm going to run in 2020. So uh, what the hell, man."