Saturday October 29th World Can't Wait San Francisco and friends took a stand against
'Torture Professor'
John Yoo and his handlers at UC Berkeley Law School. "Today we represent the views and the hearts of many more tens of millions of people who know that torture is a war crime, and a crime against humanity. International and UN law both prohibit torture, under any and all circumstances, without exception," read the protest flier.
"Indict, Prosecute, Disbar... No More Torture in Our Name," chanted about 20 witnesses to university apologists for the lawless detention policy at Guantanamo prison camp and
'black sites'
around the globe. John Yoo, a key player in the criminal enterprise of the Bush-now-Obama Regime, codified specific torture tactics used on wrongfully captured human beings, many of whom were sold to the U.S. government by bounty hunters.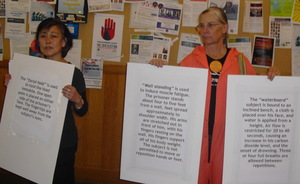 Protest organizers staged a 'Boalt Hall Museum of Torture,' displaying the 10 'advanced interrogation techniques' approved for use by judge Jay Bybee, Yoo's boss during his stint at the Justice Department Office of Legal Counsel.
John Yoo should be in prison, awaiting trial for war crimes and crimes against humanity; not
mentoring
the next generation of lawyers and judges. It is our responsibility to call out criminal and enabler alike.