Yesterday, President Obama signed into law a four-year extension of emergency powers allowing authorities to use roving wiretaps to track an individual on several telephones; track a non-US national suspected of being a "lone-wolf" terrorist not tied to an extremist group; and to seize personal or business records or "any tangible thing" seen as critical to an investigation.
Today, The Daily Californian features an article on the "activist past" of UC Chancellor Robert Birgeneau, and I think this provides an opportunity for us to recognize another of his "passions": sponsorship of the torture program embodied in the above legislation and facilitated by Law School professor John Yoo (who brags about his involvement in drafting key provisions of the Act here).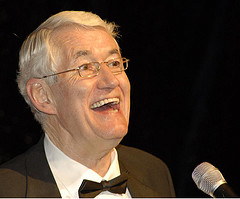 Noting that nothing about Berkeley is quite as straightforward as it seems..."We're actually a fairly broad church here," Birgeneau says, "we've got the law professor John Yoo, who has been a prime advocate of the US government's torture policy, and the biggest student club on campus is the Republican."
UC Chancellor Robert Birgeneau and 
Law School Dean Christopher Edley 
"OK" with Torture... are you?