Dear Andy,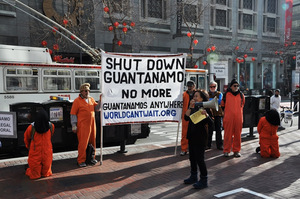 We
marched
around San Francisco Monday but couldn't find you (photo by Len and Nancy Tsou)
!
Your Bay Area friends send their regards, and look forward to hosting an event for your next U.S. tour -- how's that
book
coming?
'Til then, we'll have settle for video from your New York appearance, and additions to your blog... this year holds promise for the release of illegally held prisoners, and closure, finally, of the hated Guantanamo prison. Let's make it so!