For Mohammed el Gharani that would start with "an apology" from tormentors. Multimedia artist Laurie Anderson describes her upcoming installation and performance piece to The New Yorker: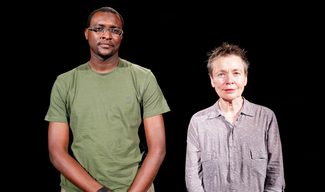 For the past six months, I've been collaborating with a former Guantánamo detainee, preparing a work of art that we are making together. From October 2nd through the 4th, we will be streaming the image of Mohammed into the Park Avenue Armory. He will be sitting in a chair in a studio in West Africa, and his live image will be broadcast to New York City and wrapped onto a large three-dimensional cast of his body. His figure -- more than three times life size, inspired by the Lincoln Memorial in Washington, D.C. -- will sit in the cavernous drill hall.
Habeas Corpus examines lost identity, memory, and resiliency of the human body and spirit.