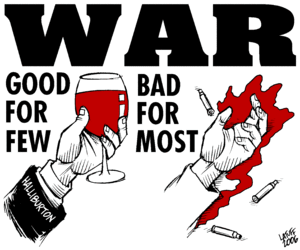 Surfing the liberal media these days you'd get the impression that the American public has "won" a tactical battle over Syria. Unfortunately the reward is absolution for the criminal acts of their government. Illusions of innocence come at a heavy price to the rest of humanity.
The exceptional violence unleashed on the Middle East and Africa by the Obama administration has received unparalleled support by his constituency. And that is the primary danger of the anti-war establishment's abdication to institutional resolution: systemic breaches of morality to "justify" imperialist demands.
Rulers depend on approval of the governed for legitimacy. Many of us are not OK with our peers' exchange of righteous indignation for complacent states of mind.