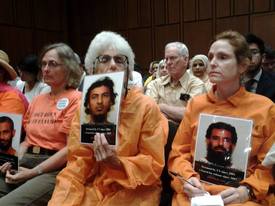 Yesterday, a
hearing before the Senate Judiciary Subcommittee on the Constitution, Civil Rights and Human Rights was hailed as a timely debate on closing Guantanamo.
What the hearing did not address--at all--were the practical steps that could be taken to follow through on President Obama's renewed promise to shutter Guantanamo
. And it was notable that no member of the Obama administration, which is largely responsible for developing a plan of action, testified at the hearing...