We cannot escape responsibility for the trauma our government inflicts on civilians across the globe, with increasing use of drone warfare and the continuing torture at Guantanamo, where prisoners have resorted to a collective hunger strike as a last resort of resistance to the brutalization of their bodies and the desecration of their religious beliefs.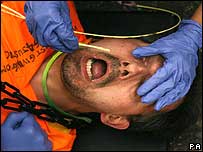 The fact that Obama would let these men die speaks volumes to his inhumanity. Some of us voted in the last election, many others refused to buy into the "lesser of two evils" argument. But I doubt anybody is OK with the President's callous indifference to the physical consequences of his immoral and illegal indefinite detention policy.
The desperate acts of these unfortunate victims force us to face the crimes of our government. Let us use this moment in time to renew our resolve to stop further death in our names.