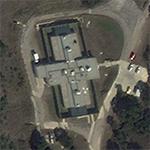 The New York Times reports:
The United States Southern Command has requested $49 million to build a new prison building at Guantánamo Bay, Cuba, for "special" detainees on top of other renovations it says are necessary since Congress has decided to keep it open indefinitely...
Camp Platinum is the most secure camp within the Guantanamo Bay detention camps. Its existence was kept secret for the first two years of its use. It was constructed to hold the fourteen "high-value detainees" who had been held by the CIA, and were transferred to military custody on September 6, 2006.