"Whether it was a series of misjudgments and missteps...
or conscious and crass political calculations, as the record of the Obama Justice Department and White House could be argued to demonstrate, the end result is the same: a bastardization of the rule of law and a condemnation, of particular concern in the case of the more than 75 men who remain in the prison at Guantanamo Bay who have been cleared for release, to a future of unjust imprisonment.
While the article (Washington Post, "Guantanamo Bay: Why Obama hasn't fulfilled his promise to close the facility") steered clear of laying blame at anyone's feet (instead seeming to insinuate a sort of collective blame), when it comes to Guantanamo Bay, the politics of fear and cynicism have won out over any promised hope or change.
--Matthew W. Daloisio, Witness Against Torture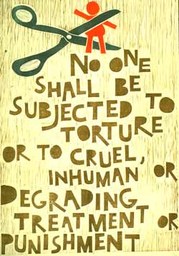 SAVE THE DATES:
June 1, "Accountability Today - Preventing Torture Tomorrow": a panel discussion featuring Juan Mendez, UN Special Rapporteur on Torture, legal experts, and special video testimonials from victims of the U.S. torture program.
June 23, March & Civil Resistance in Washington, DC: Witness Against Torture will gather in Washington DC from June 22-26 to participate in the Torture Abolition and Survivors Support Coalition's (TASSC) "Torture Survivor's Week". Join us on June 23rd for a march and action focused on the 172 men that remain in Guantanamo, particularly the 90 men currently cleared for release but still being held.