a message to the Stanford community: Don't Legitimize Torture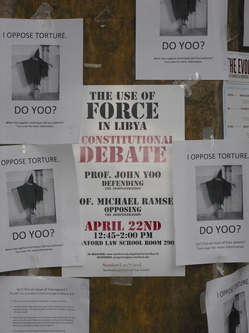 "This Friday, UC-Berkeley Professor John Yoo will visit the Law School to speak at an event in room 290 from 12:45 to 2:00 p.m. Yoo's presence on campus is an affront to the dignity of our community. It also undermines the University's mission to train tomorrow's leaders to follow the highest ethical standards.
I ask all interested members of the Stanford community to join me in protesting this event. 
...Without fear of official recourse, John Yoo remains free to roam the lecture circuit, instead of contemplating his mistakes inside the walls of the federal prison system where he belongs. Although one can find a diversity of political voices supporting the United States' torture policy, there is no reason that its architects should find a friendly audience at Stanford. I hope students from across the University will respectfully protest Yoo's talk and make it clear that torture advocates are not welcome on this campus.
-- Danny Cullenward, Class of 2013