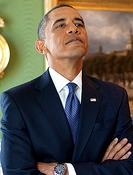 advancing the
'official' story
:
"With respect to Private Manning, I have actually asked the Pentagon whether or not the procedures that have been taken in terms of his confinement are appropriate and are meeting our basic standards...
They assure me that they are." Â  Â Â 
Daniel Ellsberg tells the President to get a grip

:
"I would hope [Obama] would know better than to ask the perpetrators whether they've been behaving appropriately."
photo credit: Pete Souza / White House