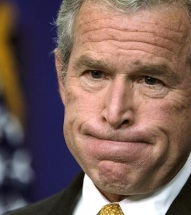 UPDATE: "Between The Lines" Scott Harris speaks with Claire Tixeire from the Center for Constitutional Rights about the basis for the Bush torture indictment and plans to pursue the case around the world. Listen in here
Nine years ago today, the Bush administration decided that international law does not apply to prisoners of war. It was a watershed moment in US history, resulting in a policy of torture that pervaded and darkened the Bush years, and inflamed anti-American sentiment abroad.
To mark that grim anniversary, two men who claim to have been victims of torture filed official complaints in Geneva, Switzerland, seeking a ruling on universal jurisdiction...
Torture complaints hit Bush on ninth anniversary of key decision