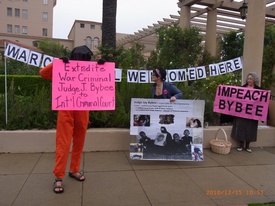 Sharon Tipton

reporting from Pasadena, 9th Circuit Court of Appeals, December 15:
Judge Bybee looked at me curiously. He must have recognized me since the last time I saw him I had protested inside his courtroom, LOUDLY reminding him of the laws affecting those who, like him, are complicit in torture. It's a 25 year jail sentence). I had told him how to do his job.

He looked as if he were trying to figure me out, who I was, and what was my agenda. I sat quietly, occasionally asking my protest partner, Susan, questions about the case as I attempted to follow along. It was about an autistic child who had possibly been abused by his school. It made me think about the six year old student who was water boarded by his teacher; the father who water boarded his small daughter; and the young man who used this "legal" method of interrogation, on his girlfriend.

I thought of how Bybee's authorization of torture by water boarding was now seen as a legitimate form of interrogation by many, and had become normalized,as seen in the crevices and cracks of society . He had help create Trickle Down Torture. But could he really have no idea of why we were there? No idea of the mass of humanity his authorizations for illegal war had wasted? When is it ever okay to "simply follow orders" without following your conscience. Maybe he no longer had one.

While we waited for the opportunity to speak out at the gavel drop signalling the end of the session, three of our friends were standing outside the grand entrance of the rose flanked courthouse - one dressed as a Gitmo detainee, and the others holding signs ("Extradite War Criminal Jay Bybee to the International Criminal Court"), and handing out Jay Bybee Wanted posters. And all three standing beneath a 20 foot banner which read: " War Criminal Welcomed Here".

Finally, it it was time for our action. Susan's clear, loud voice rose above the soft talking of lawyers. "GEORGE BUSH ADMITTED IN HIS BOOK THAT HE AUTHORIZED TORTURE. TORTURE IS NEVER LEGAL OR ACCEPTABLE! She continued for about 30 seconds, then ended with "IMPEACH JAY BYBEE!" She had just scolded [eleven] High Court Judges! The Contracted Security Officer pushed past me to grab Susan (harshly, it seemed, and later she confirmed it was so) and led Susan out of the Courtroom. One asked me to leave, so on my way out I yelled, "Jay Bybee, please step down. You are a black spot on the integrity of this court! Get a conscience!" I then went on to educate the people as I walked out about the three civilian water boarding occurrences, and Bybee's role in normalizing torture. I received some warm smiles (amused? commending?) as I was escorted out of the courtroom.

Susan immediately sought to speak to Judge Alex Kozinski about her treatment, since harsh treatment isn't necessary for non-violent, peaceful protest. We should be able to state our concerns as long we don't disturb the session. And peacefully, and persistently, we will continue to speak the truth.