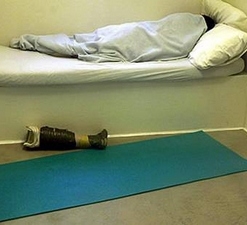 Abdul Aziz Naji
 
described his situation as "dancing between fires." If he were returned to Algeria, he would face threats to his life and safety from both the Algerian government and from fundamentalist insurgents. He was brought to Guantánamo as the victim of a Pakistani house raid in the chaotic aftermath of the U.S. invasion of Afghanistan. Yet, he remained in Guantánamo because no country would advocate for his release.
"Disappeared" but not forgotten:

detained for 8 years without charges, 
prisoner's fate unknown. This is NOT the way to close Guantanamo.
The Obama administration transferred Aziz Abdul Naji to Algeria in July 2010 against his will. Naji argued that he would face a high risk to be tortured in Algeria when he would be forced to returned to this country but he lost his case before the Supreme court. Human Rights Watch and the United Nations have heavily criticized the Obama administration for their decision.