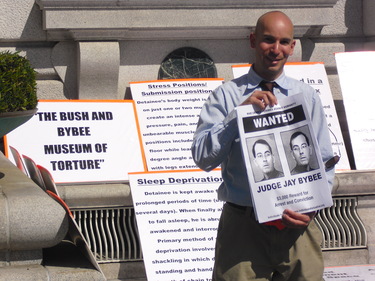 CodePink video of action
here
PRESS CONFERENCE AND RALLY, James R. Browning Courthouse, San Francisco
The media sometimes comments on Judge Bybee's relatively lower protest profile - compared to John Yoo, who lately gets met with protest everywhere from NY and SF to Texas, Chicago, and Johns Hopkins -- and soon (March 19) in
Charlottesville, VA
. Bybee was Yoo's boss, and had an active role himself in producing legal handiwork promoting torture at the direct behest of the Bush-Cheney White House. Bush appointed him this lifetime federal judgeship as a direct reward for those crimes. Bybee is as much a war criminal as is John Yoo.
About two dozen protesters from World Can't Wait, Code Pink, National Accountability Action Network, Progressive Democrats of America, and others displayed the "
Bush and Bybee Museum of Torture
" and called for removal of one of the chief architects of the Bush Regime's state torture program. A letter to each of Bybee's associates on the bench was delivered inside the courthouse, asking the Ninth Circuit Chief Judge, Alex Kozinski, to refer Jay Bybee to the Judicial Conference for impeachment.
"When he was employed at the United States Department of Justice, Jay Bybee signed memos that were used as secret laws to legalize blatant crimes. This amounts to an attack on the idea of the rule of law. Our opinion is that such a person should not be a lawyer, let alone a judge." - excerpt from a statement by
Disb
ar Torture Lawyers